> Top (this page)
WAAC 2013
July 12-13, 2013
The 16th Korea-Japan Joint Workshop on
Algorithms and Computation
---
July 12 - 13, 2013
Kyonggi University, Suwon, Korea
---
Announcements
---
Objectives
The aim of this workshop is to provide a forum for researchers working on algorithms and the theory of computation, to promote the exchange of recent results, to foster new collaborations among researchers. Historically, the workshop has established for the purpose of collaboration of researchers of Japan and Korea; however, participation from any country is welcome.
The workshop is organized by the Special Interest Group on Theoretical Computer Science (SIGTCS) of the Korean Institute of Information Scientists and Engineers (KIISE) and the Special Interest Group on Algorithms (SIGAL) of the Information Processing Society of Japan.
---
Topics
Automata, languages and computability
Algorithms (combinatorial/graph/geometric/randomized)
VLSI and parallel algorithms
Networks and distributed algorithms
Learning theory and data mining
Number theory and cryptography
Graph drawing and visualization
Computational logic
Combinatorics and optimization
---
Important Dates
| | |
| --- | --- |
| Paper submission deadline: | May 19, 2013 Extended to May 29, 23:59 (GMT+9) |
| Notification of acceptance: | June 8, 2013 |
| Final version submission: | June 16, 2013 |
| Conference: | July 12-13, 2013 |
---
Workshop Site
2F General Lecture Building(

), Kyonggi University
San 94-6 Yiui-dong, Yeongtong-gu, Suwon, 443-760 South Korea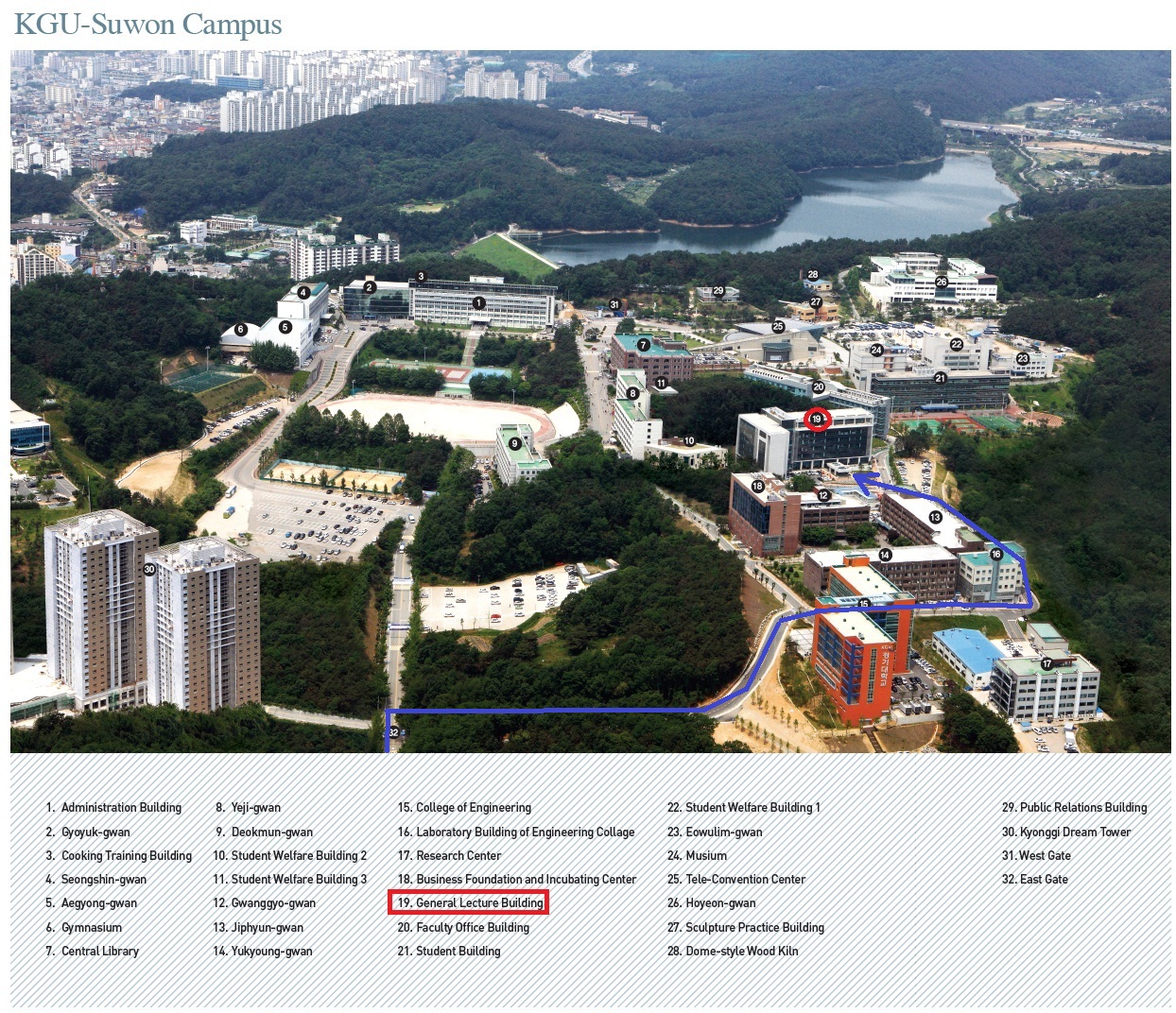 You can click the map to see a larger one.
Access :
Check out our guide to how to get to the workshop site.
Kyonggi University is located in the eastern region of Suwon. Once you get in Suwon city, the best way is to take a taxi. It's relatively cheap (at most KRW 10,000 from anywhere in Suwon).
>> The details to access Kyonggi University
Suwon city is located 30km south of Seoul. There are many bus or train connections to Suwon from Incheon Airport, Gimpo Airport, and other central places of Seoul.
>> The official website of Suwon City
A recommended route from Incheon/Gimpo Airports is by bus.
Take a bus for "Suwon" and get off its destination "Hotel Castle" from either airport.
The bus line is quite frequent and the quickest way to get in east Suwon.
From Incheon Airport (80mins): Bus Stop No. 7B at the Arrival Floor
Bus details
From Gimpo Airport (90mins): Bus Stop No. 1 (at 2F, International Terminal) or Bus Stop No. 11-3 (at Domestic Terminal)
Bus details
Or, you can use the train network to Suwon Station (90~120mins):
---
Accommodation
144-4, Uman-dong, Paldal-gu, Suwon-si, Gyeonggi-do, South Korea
Tel. +82-31-211-6666
Strongly recommended.
Closest to the workshop site and just next to the Airport Limousine Terminal.
A shuttle bus will drive you to the workshop site in the morning on July 12 and 13.
Reduced room fare for WAAC 2013 participants:
| | |
| --- | --- |
| Standard Double: | 132,000 KRW (tax included) |
| Deluxe Double (1 king bed): | 165,000 KRW (tax included) |
| Deluxe Twin (1 double bed & 1 single bed): | 165,000 KRW (tax included) |
We are negotiating more service and/or discount for WAAC 2013 participants who staying at this hotel.
To book a room at Hotel Castle
at this reduced rate for WAAC 2013,
send an email directly to
reservation@hcastle.co.kr
by June 25th
with subject
"[WAAC 2013] Room Reservation"
including your information about:
First name
Family name
Number of guests
Room type (Standard Double, Deluxe Double/Twin, some Suites available)
Check-in and check-out date
Any other request
You then will get replied with a confirmation from the hotel.
There are a couple of other choices.
Ramada Plaza Suwon
940, Ingye-dong, Paldal-gu, Suwon-si, Gyeonggi-do, South Korea
Tel. +82-31-230-0001
Ibis Ambassador Suwon
1132-12, Ingye-dong, Paldal-gu, Suwon-si, Gyeonggi-do, South Korea
Tel. +82-31-230-5000
There are many cheaper hotels or motels in Suwon you can find but we don't recommend them in several reasons
---
Map
The map below is being incrementally updated. So check the map just before departure.
It now shows the locations of the workshop site, hotels and remarkable sites with description.
View
Official Map for WAAC 2013
in a larger map
---
Invited Speaker
Hee-Kap Ahn, POSTECH, Korea
---
Program Committees
| | | |
| --- | --- | --- |
| Sang Won Bae | | (Kyonggi University, Korea) |
| Takuya Kida | | (Hokkaido University, Japan) |
| Sung-Ryul Kim | | (Konkuk University, Korea); Co-chair |
| Inbok Lee | | (Korea Aerospace University, Korea) |
| Mun-Kyu Lee | | (Inha University, Korea) |
| Hee Jin Park | | (Hanyang University, Korea) |
| Chan-Su Shin | | (Hankuk University of Foreign Studies, Korea) |
| Yasuyuki Shirai | | (JST-ERATO, Japan) |
| Yasuo Tabei | | (JST-ERATO, Japan) |
| Takeaki Uno | | (National Institute of Informatics, Japan); Co-chair |
Organizing Committees
---
Contact
E-mail: waac13@gmail.com
---
Previous WAACs
WAAC 2012: July 10-11, 2012, National Institute of Informatics, Tokyo, Japan
WAAC 2011: July 8-9, 2011, Hanwha Resort, Busan, Korea
WAAC 2010: July 23-24, 2010, Kanazawa Culture Hall, Kanazawa, Ishikawa, Japan
WAAC 2009: July 4-5, 2009, Kookmin University, Seoul, Korea
WAAC 2008: July 19-20, 2008, Fukuoka, Japan
WAAC 2007: August 9-10, 2007, at Chonnam National University, Gwangju, Korea
WAAC 2006: July 4-5, 2006, at Hokkaido University, Sapporo, Japan
WAAC 2005: August 12-13, 2005, at Ewha Womans University, Seoul, Korea
WAAC 2003: July 3-4, 2003, at Sendai City Information & Industry Plaza, Sendai, Japan
WAAC 2001: June 28-29, 2001, at Pusan National University, Pusan, Korea
WAAC 2000: July 21-22, 2000, at University of Tokyo, Tokyo, Japan
WAAC 1999: July 19-20, 1999, at Seoul National University, Seoul, Korea
WAAC 1997: July 25-26, 1997, at Kyushu University, Fukuoka, Japan
WAAC 1996: August 23-24, 1996, at KAIST, Taejon, Korea
WAAC 1995: July 20-21, 1995, at Osaka Electro-Communication University, Japan
---